The strength of Morgan Health is our dedicated and accomplished team of health care and investment experts.
Morgan Health's deep bench of experience and expertise allows us to focus our efforts to create lasting improvements in the U.S. health care system. Our diverse and multidisciplinary team reflects the complexity of the health care system, as well as the communities where we work. The team is collaborative, nimble, and willing to take risks to achieve meaningful progress.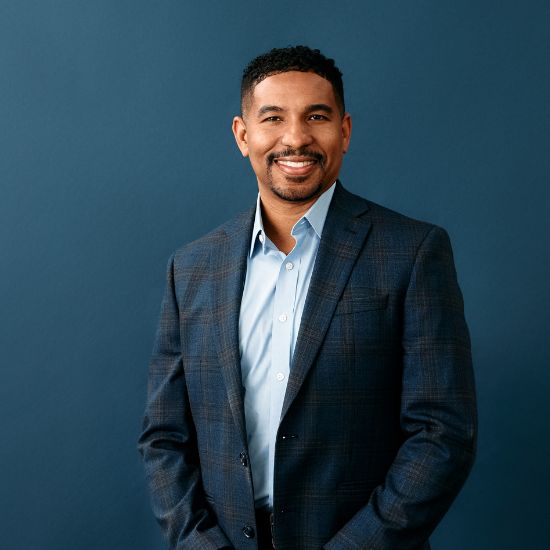 Brandon Batiste
Vice President
---
ABOUTBrandon Batiste is a Vice President at Morgan Health.
Brandon Batiste is a Vice President of Health Care Innovation at Morgan Health. He is working to accelerate the adoption of innovative partnerships and solutions that improve health outcomes as well as the quality, affordability and equity in employer-sponsored health care.
Prior to joining Morgan Health, Brandon served as the Regional Network Strategy Lead with Cityblock Health where he worked to develop high performing provider networks. He is also the former Chief Operating Officer of the DC Connected Care Network, a clinically integrated network of Federally Qualified Health Centers (FQHCs) focused on total cost of care reduction, ER diversion, transitions of care and wrap-around services to address social needs. Brandon has held leadership roles with the Department of Veterans Affairs, Evolent Health, Magellan Health and The Johns Hopkins Health System. His portfolio includes expertise in value-based payment, network strategy, population health and practice transformation.
Brandon is a Robert Wood Johnson Foundation Culture of Health Fellow and has been honored for his leadership as the 2020 Young Healthcare Executive by the National Association of Health Services Executives; Xavier University of Louisiana, 40 under 40 alumni honoree; and 2019 40 under 40 honoree with the National Minority Quality Forum. His population health experience is also represented through work in Haiti, Saudi Arabia, South Africa and Belize. Brandon received his Bachelor of Science degree from Xavier University of Louisiana, his Master of Public Health degree from Emory University Rollins School of Public Health, and completed his administrative fellowship with the Johns Hopkins School of Medicine and Health System.